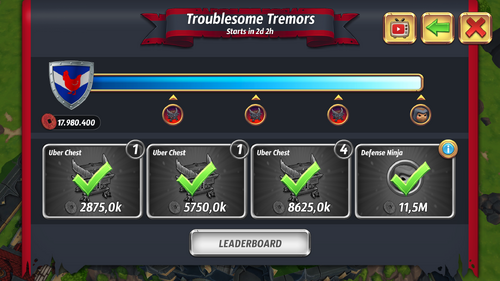 Description
Edit
Participation in the Ninja event benefits your entire Alliance and not only the single individual:
By earning coins together in your Alliance, you will unlock chests and defense troops (e.g. Ninjas, Zombies…)
You will be able to compete against other members of your Alliance by looking to the Alliance Rewards Leaderboard
Plus:
The Alliance rewards depend on the Alliance level.
The Defense Ninja level depends on the personal tier of each player.
The amount of Ninjas available in defense depends on the Alliance tower level and the path length.
Alliance Level
Alliance Rewards
1° Bonus
2° Bonus
3° Bonus
4° Bonus

(Defense Ninja)

1
1 
1 
1 
2
1 
1 
1 
3
1 
1 
1 
4
1 
1 
1 
5
1  37,500
1  75,000
1  112,500 
 150,000
6
2  45,000
1  90,000
2  135,000
 180,000
7
2  52,500
1  105,000
2  157,500
 210,000
8
2  45,000
1  90,000
2  135,000
 180,000
9
2 
1 
2 
10
2 
1 
2 
11
2  70,000
2  140,000
1  210,000
 280,000
12
2  87,500
2  175,000
1  262,500
 350,000
13
2  126,900
2  253,800
1  380,600
 507,500
14
2  122,500
2  245,000
1  367,500
 490,000
15
2  140,000
2  280,000
1  420,000
 560,000
16
2  157,500
2  315,000
1  472,500
 630,000
17
2  175,000
2  350,000
1  525,000
 700,000
18
2  192,500
2  385,000
1  577,500
 770,000
19
2  210,000
2  420,000
1  630,000
 840,000
20
2  227,500
2  455,000
1  682,500
 910,000
21
1  245,000
1  490,000
2  735,000
 980,000
22
1  262,500
1  525,000
2  787,500
 1,050,000
23
1  350,000
1  700,000
2  1,050,000
 1,400,000
24
1  380,000
1  760,000
2  1,140,000
 1,520,000
25
1  410,000
1  820,000
2  1,230,000
1,640,000
26
1  440,000
1  880,000
2  1,320,000
1,760,000
27
1  470,000
1  940,000
2  1,410,000
1,880,000
28
1 500,000
1 1,000,000
2 1,500,000
2,000,000
29
1 616,800
1 1,237,500
2 1,856,200
2,475,000
30
1 652,500
1 1,305,000
2 1,957,500
2,610,000
31
2 686,200
2 1,372,500
3 2,058,800
2,745,000
32
2
2
3
33
2 753,800
2 1,507,600
3 2,261,400
3,015,200
34
2
2
3
35
2
2
3
36
2 1,000,000
2 2,000,000
3 3,000,000
4,000,000
37
2
2
3
38
2
2
3
39
2 1,187,500
2 2,375,000
3 3,562,500
4,750,000
40
2  1.250,000
2  2,500,000
3  3,750,000
5,000,000
41
1  1,312,500
1  2,625,000
1  3,937,500
 5,250,000
42
1  1,375,000
1  2,750,000
1  4,125,000
 5,500,000
43
1  1,437,500
1  2,875,000
1  4,312,500
 5,750,000
44
1  1,500,000
1  3,000,000
1  4,500,000
 6,000,000
45
1  1,562,500
1  3,125,000
1  4,687,500
 6,250,000
46
1  1,625,000
1  3,250,000
1  4,875,000
 6,500,000
47
1  1,687,500
1  3,375,000
1  5,062,500
 6,750,000
48
1  1,750,000
1  3,500,000
1  5,250,000
 7,000,000
49
1
1 
1 
50
1
1 
1 
51
1
2 
2 
52
1
2 
2 
53
1 2,062,500
2  4,125,000
2  6,187,500
8,250,000
54
1
2
2
55
1  2,250,000
2  4,500,000
2  6,750,000
 9,000,000
56
1
2
2
57
1
2
2
58
1
2
2
59
1
2
2
60
1  2,375,000
2  4,750,000
2  7,125,000
 9,500,000
61
1 

2,500,000

1  5

,000,000

2  7

,500,000

10

,000,000

62
1  2,500,000
1  5,000,000
2  7,500,000
10,000,000
63
1  2,500,000
1  5,000,000
2  7,500,000
 10,000,000
64
1  2,500,000
1  5,000,000
2  7,500,000
 10,000,000
65
1  2,500,000
1  5,000,000
3  7,500,000
 10,000,000
66
1  2,562,500
1  5,125,000
3  7,687,500
10,250,000
67
1  2,625,000
1  5,250,000
3  7,875,000
10,500,000
68
1  2,687,500
1  5,375,000
3  8,062,500
10,800,000
69
1  2,812,500
1  5,625,000
3  8,437,500
11,200,000
70
1  2,875,000
1  5,750,000
4  8,625,000
 11,500,000
71
1  2,875,000
1  5,750,000
4  8,625,000
 11,500,000
72
1  2,875,000
1  5,750,000
4  8,625,000
 11,500,000
73
1  2,875,000
1  5,750,000
4  8,625,000
 11,500,000
74
1  2,875,000
1  5,750,000
4  8,625,000
 11,500,000
75
1  2,875,000
1  5,750,000
4  8,625,000
 11,500,000
76
1  2,875,000
1  5,750,000
4  8,625,000
 11,500,000
77
1  2,875,000
1  5,750,000
4  8,625,000
 11,500,000
78
1  2,875,000
1  5,750,000
4  8,625,000
 11,500,000
79
1  2,875,000
1  5,750,000
4  8,625,000
 11,500,000
80
1  2,875,000
1  5,750,000
4  8,625,000
 11,500,000