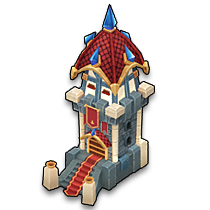 The Alliance tower is a tower that is located next to your
Troop Academy
, and your
Throne Room
. With your Alliance Tower you can:
Join an Alliance
Create an Alliance
Join Alliance Wars
See War Season History of Alliance Wars
Donate gold to your alliance and see how much gold other members have donated
Chat with other Alliance members
View the Elite Boosts
Request and donate Insta-Troops
Have Ninjas/Zombies/Yetis in Defense
You can donate to your Alliance in the Alliance Tower. The standard donation is 1K, but when you upgrade your Alliance Tower, the donation limit will be increased. After donating, there is a cooldown of 24 hours before you can donate again. From the Alliance's gold, the Alliance's leader can buy eliteboosts or upgrade the alliance. If your Alliance Tower is upgraded, the 24 hours donation cooldown timer resets. When you can donate, a yellow light comes out of the Alliance Tower.
Elite Boosts
Edit
Elite Boosts are enhancements that upgrade defense buildings, or units. They mostly get a huge increase of health, and some other special power. New eliteboosts are unlocked as your Alliance's level gets higher.
The owner of an alliance can purchase eliteboosts from the alliance's gold. Only the leader and generals can use the alliance gold for it, and if there is not enough gold, no eliteboost can be activated. All players can pay real money to activate an eliteboost. The gold that's left, will be transported into the alliance's gold storage. Eliteboosts only last for a few hours, but they can be extendend the same way as they're activated.
Level

Requirement

Max Donation
Upgrade Cost
Upgrade Time

Insta-Troop

Cooldown

Insta-Troop

Unlock

1
Throne Room lvl 2
1K
 1
2m
 30s
 Knight
2
2K
 2
10m
 28s
 Archer
3
5K
 5
1h
 26s
 Paladin
4
Throne Room lvl 4
10K
 15
 3h
 25s
 Froster
5
Throne Room lvl 5
20K
 50
 6h
 24s
 Cannon
6
50K
 100
 12h
 23s
 Ogre
7
Throne Room lvl 6
75K
 250
 1d
 22s
 Pyromancer
8
Throne Room lvl 7
100K
 500
 1d 12h
 21s
 Gargoyle
9
Throne Room lvl 8
150K
 1K
2d
 20s
 Arblaster
10
Throne Room lvl 9
250K
 2K
 2d 12h
 19s
 Mummy
11
500K
 4K
 3d
 18s
 Mortar
12
 750K
 6K
 4d 12h
 17s
 Werewolf
13
Throne Room lvl 10
 1,000K
 8K
5d
 16s
 Monk
14
Throne Room lvl 11
 1,250K
 8K
 6d
 15s
 Necromancer 
15
Throne Room lvl 12
 1,500K
 8K
 7d
 14s
 Viking
Extra Donation Costs
Edit
Aside from regular donations, players can make larger donations by spending real money on their alliance. Extra donations are often made by alliance leaders who want to invest in their alliance. Players can do the same, but have less incentive to do so if an alliance is impersonal and they can be kicked at any time.
Depending on their alliance tower's level, extra donations become bigger and more expensive, but also more cost effective. The number of extra donations isn't limited by the game.
Extra donation costs depend on a player's currency and may change over time due to price changes, handling fees, and currency fluctuations.
| Alliance Tower Level  | 1 - 4 | 5 - 6 | 7 - 8 | 9 - 15 |
| --- | --- | --- | --- | --- |
| Donation | 200K | 500K | 1M | 2M |
| Cost in EUR | €0,89 | €1,99 | €2,99 | €4,99 |
| Cost in USD | $0,99 | $1,99 | $2,99 | $4,99 |
| Cost in DKK | Kr 6,62 | Kr 14,80  | Kr 22,24 | Kr 37,12 |
| Cost in JPY | ¥ 115,80 | ¥ 258,92 | ¥ 389,04 | ¥ 649,27 |
| Cost in VND | ₫ 23,54 | ₫ 52,65 | ₫ 79,11 | ₫ 132,02 |
You can skip the recovery time of 24h by paying 100 gems.
Gem Donation Costs
Edit
If you have spent real money in-game to buy gems, you'll get a new option on the donation tab that will allow you to donate gold to your alliance by spending gems. How much you can donate by gems depends on your alliance tower level.
| Donation Level | Gold Donated | Gems Cost | Requirement |
| --- | --- | --- | --- |
| 1 |  500K |  200 | Alliance Tower Level 1-4 |
| 2 |  1M |  350 | Alliance Tower Level 5-6 |
| 3 |  2M |  500 | Alliance Tower Level 7-8 |
| 4 |  4M |  750 | Alliance Tower Level 9-12 |
| 5 |  8M |  900 | Alliance Tower Level 13-15 |