WARNING:
In this page as well as all other pages on Wikia is NOT allowed share your Voucher-Codes.
You can share your voucher-codes only to this LINK
Any voucher-code posted in the comments will be deleted.
Invite friends and earn rewards
Invite your friends to play Royal Revolt 2 with you and earn rewards as they grow stronger.
To invite a friend, use the "invite friends" button you can find in the new friends list, in your Alliance member list or in the voucher bazaar. Choose a picture and hit the share-button to send the invite to your friend – you can send it via email, WhatsApp, SMS, Facebook, Twitter, and more. The message your friend receives always comes with a link to download Royal Revolt 2 and a friend code (An example is: TLZIBTRVP). After your friend has downloaded the game and has played through the tutorial, he can enter this friend code. From that moment on, you are automatically connected as friends.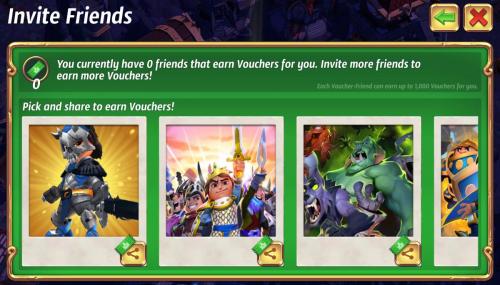 As soon as your friend and you are connected, both of you earn vouchers as the other one reaches a new hero level. The vouchers are automatically rewarded to you. There will be also some quests that give vouchers. Collect vouchers and trade them for great rewards in the voucher bazaar.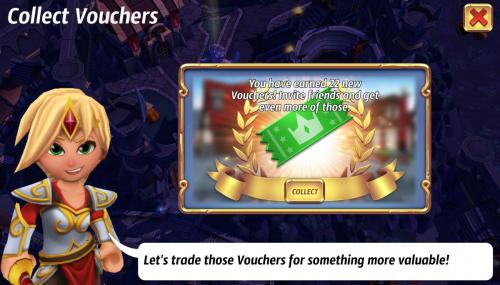 When you've reached a new level, fought an epic battle, won a tournament, completed a dungeon level or equipped a new item, you can now share those achievements with your friends.
Just tap the share-button and send a message to your friends to show them your latest success. The great thing: Each share you do is also a friend invite as it also includes a friend code.
The voucher bazaar
The voucher bazaar is where you trade your vouchers into rewards. Here you can get gold shields, gems, hero items, gold and other things in exchange for your vouchers. If you need more vouchers, encourage your friends become stronger Kings or invite more friends to play Royal Revolt 2.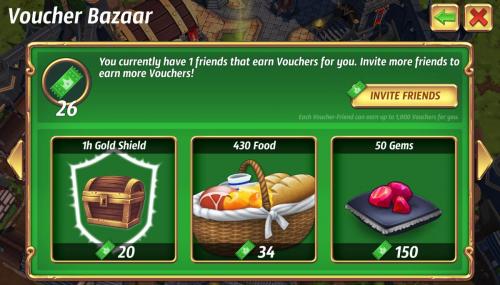 Voucher to Gems Ratio
| Vouchers | Gems | Ratio |
| --- | --- | --- |
|  150 |  50 | 3:1 |
|  400 |  100 | 4:1 |
|  1,750 |  350 | 5:1 |
|  3,750 |  750 | 5:1 |
| 5,000 | 1,000 | 5:1 |
|  9,000 |  1,500 | 6:1 |
|  14,000 |  2,000 | 7:1 |
The friends list
You can not only invite new players to the game, but also become friends with other Kings that already play Royal Revolt 2. Just visit their player profile and send them a friend request.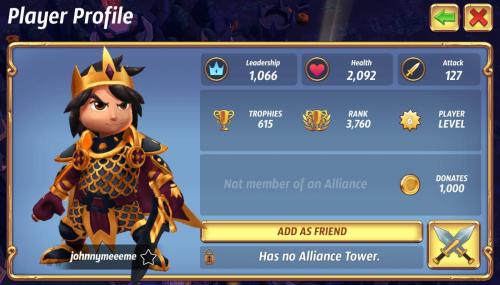 All of your friends and unanswered friend requests are shown in the friends list.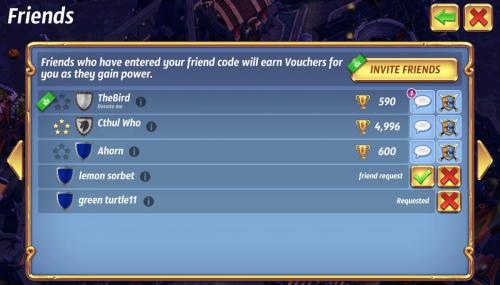 With all of your friends you can start a chat. This chat is only between the two of you. You also find updates of your friend's status here, for example when they reached a new hero level or joined an alliance.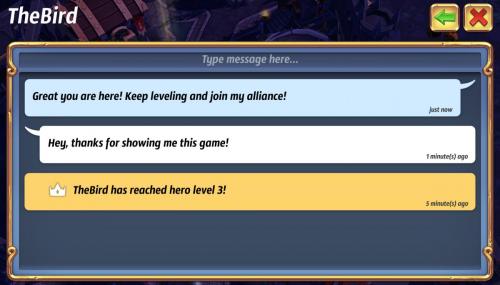 Players that have a voucher icon next to their name are connected to you by a friend code – either they entered your friend code or you entered their friend code.Only those players can earn vouchers for you.
You can also test your friends' defense without using food or gems and give him advice like you can do it for members of your alliance.
You can have up to 80 friends in total, 30 that earn vouchers for you and 50 that don't earn vouchers for you.
Unfriend friends
If you don't want to be friends with another player anymore, you can visit his player profile and tap "unfriend". Then he will not appear in your friend list anymore.
You can also unfriend friends that earn vouchers for you, but be careful: if you unfriended them once, they can never again earn vouchers for you, even if you later decide to become friends again.
Community content is available under
CC-BY-SA
unless otherwise noted.